Networking in… The Friendliest Networking Group in our corner of the internet
November 15 @ 7:30 am

-

9:00 pm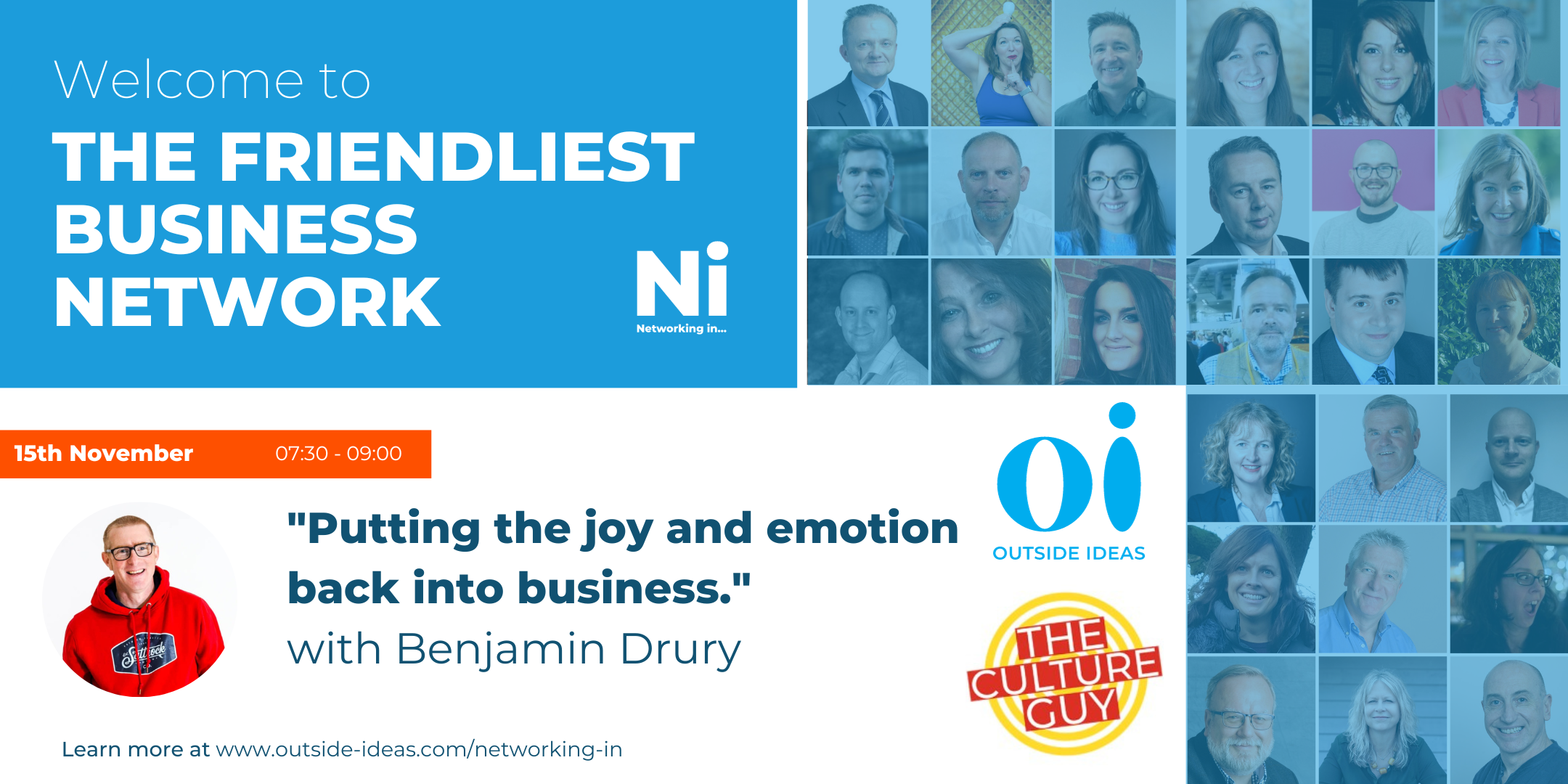 Networking in… The Friendliest Networking Group in our corner of the internet
Price: £10
When: 15th November 2023
Time: 07:30-09:00
Where: Online
Networking in…with Benjamin Drury – "Putting the joy and emotion back into business."
Benjamin Drury, The Culture Guy is one of the UK's top challenge speakers. He will be our speaker at this session with an exciting yet insightful topic.
We've spent the last 40 years becoming more "professional" which means more serious, hard-nosed in how we do business and we've removed the emotion from it. But people are emotional. We all make decisions and run our lives based on emotions. Without emotion, you can't attract and engage the best clients or employees and they won't do their best work without being able to express their emotions. We should be emotional at work. Everything in this world is emotional because really it's all about people.
Imagine every one of your employees, partners and suppliers comes to work excited and energised by what they do. Bringing their 'A' game, solving problems, hitting deadlines, and going the extra mile. How would that change your organisation? How would change the mood of a nation?
The irony is that research shows when you build a strong, authentic emotional culture, honestly expressed in the way you do business, your business grows too.
In this session, Benjamin Drury, The Culture Guy, will take us through the science of why emotions matter and how to create a strong, authentic culture with The Culture Canvas, whether you're a business of one or a multinational corporation of thousands.
Key Takeaways:
Understand why emotions matter in business.
Discover the four parts of creating a positive culture.
Find out how to elevate and differentiate your business with an authentic culture.
Networking in…
What works for one person can sometimes be a complete turn-off for another. We looked around at all the other groups, took the best bits; and did it our way.
We believe that the best networking groups are diverse in age, sex, race and religion. We also believe that people buy from people; we don't exclude or have caps / exclusivity within a sector. If you want to win business in our rooms; you'll win it because of who you are, what you do, and how you do it; rather than you being the only option. In our groups, you'll have ample opportunity to tell your story, listen to everyone else's, and then have the time to make all the connections you want.
JOIN US ONLINE ON THE 1ST AND 3RD WEDNESDAY OF THE MONTH AT 7:30AM-9:00AM
Not all business networking was created equal and we think you'll find our events quite special
If you love & come regularly to Networking in… check out The Alliance