Greencore Construction zero energy houses exceeds 2050 targets
February 19th 2020
As buildings account for half of all CO² emissions, the Future Homes Standard (FHS) consultation paper, due to come into force in 2025, proposes to ban fossil fuel heating systems such as gas boilers in favour of low-carbon alternatives.
However, many volume housebuilders and developers are carrying on exactly as before in a situation described as 'crazy', by Oxfordshire-based Greencore Construction, whose zero-carbon, zero-energy houses easily exceed 2050 targets and is based at Culham Innovation Centre.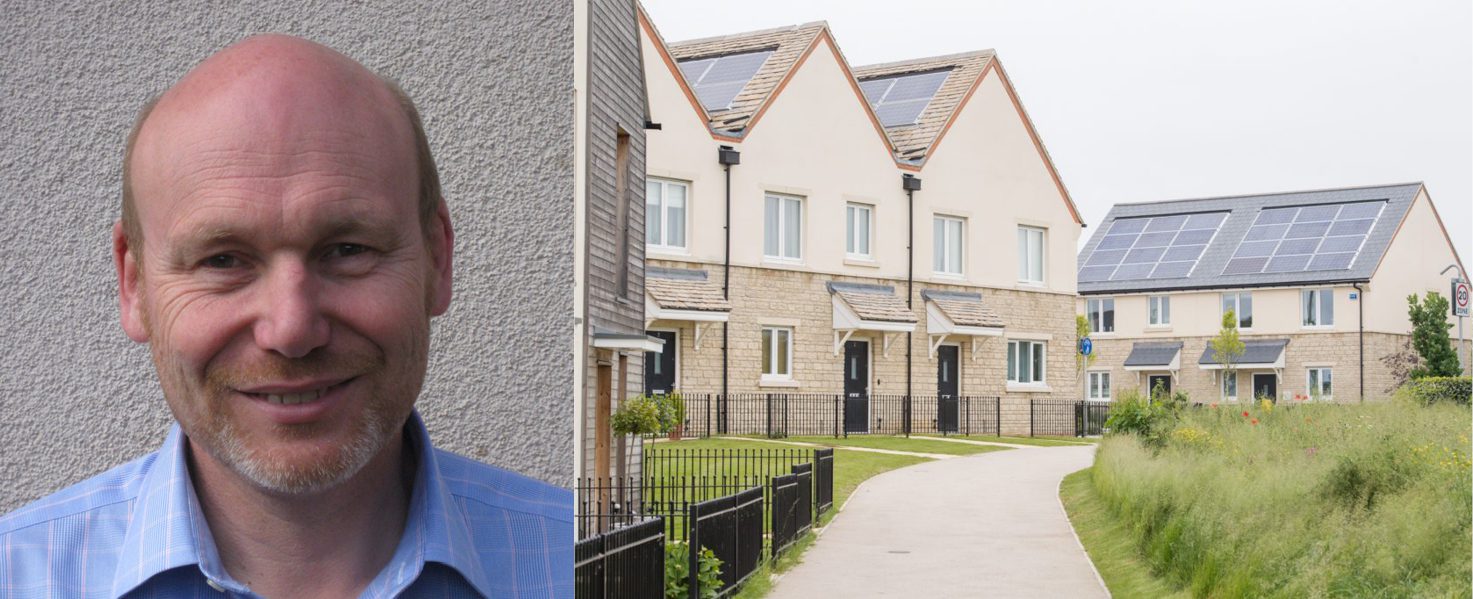 Greencore's managing director Ian Pritchett says his team has proved it's possible to build to this standard at fractionally more cost than traditional methods and completion times are significantly quicker. The next step, he believes, is to persuade the volume house builders to follow suit, so the benefits can be scaled-up.
He says: "As the construction industry, we can do more than almost any other sector to address climate change. We know we can build houses that have zero carbon footprint and zero carbon emissions, so it's crazy to build houses today that are going to need retrofitting in the next few years. We've got to be building houses now that hit those targets."
He adds: "Our purpose is to accelerate the global transition to low-carbon living, and we're going to do that by scaling-up the delivery of low-carbon homes until they can no longer be ignored by the mainstream."
This month sees the completion of the first seven of Greencore's 25-home development at Springfield Meadows in Southmoor near Abingdon. As the first housing scheme in the UK to be zero carbon at construction stage, as well as zero energy and zero emissions in use, it's already received much national media attention.
Greencore's previous scheme of 15 'near-zero' homes at Kings Farm Close at Longcot in the Vale of White Horse is also just weeks away from completion. Opened by former Wantage MP and Culture Secretary Ed Vaizey in March last year, it's been praised for implementing Bioregional's One Planet Living framework.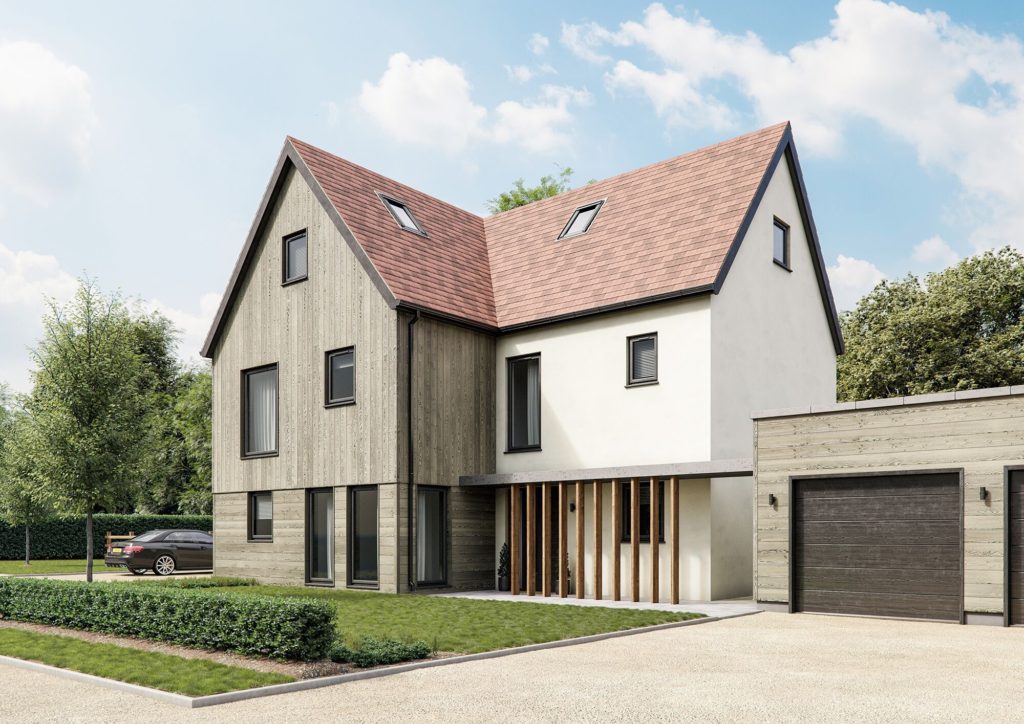 Pritchett's willingness to publicly criticise volume national housebuilders is helped by the fact he's an industry outsider and an archetype 'disrupter'. While studying for a physics degree at Durham University, he worked on building sites during holidays and decided construction was "more fun than physics". His career began focusing on the repair of historic buildings until the mid-1990s, when he applied lime render to what was one of the first straw-bale new-builds in the country. A few years later, he came across an architect in Suffolk mixing lime and hemp together and remembers thinking: "Great technology, we should be involved in that." This triggered the start of 12 years' scientific research into lime and hemp, working with Bath University.
He co-founded Greencore Construction in 2013, with chairman and Oxford University maths graduate Martin Pike, and as part of an EU-funded research project they developed their proprietary Biond construction system.
Greencore's zero carbon homes are designed at the company's offices in Culham Innovation Centre. Timber panels for the walls, containing a thick insulation layer made from hemp mixed with lime, are made at the firm's factory near Wheatley.
As well as reducing CO² emissions compared to traditional bricks and cement mortar, the panels lock-up carbon within the homes and the high levels of insulation mean virtually no heating or cooling is needed, again cutting energy consumption and carbon emissions.
"The natural environment already has a carbon-capture and storage mechanism. It's called plants and trees," Pritchett jokes.
It's not just trees that capture and store carbon, as he points out, it's all types of plants. And the faster they grow, the more they lock-up CO². Industrial hemp takes just 14 weeks, from planting seeds to harvesting a three-to-four metres-high crop.
"It locks up carbon faster than trees, or almost anything else on the planet," Pritchett adds.
Electricity for Greencore homes is generated from photovoltaic (PV) panels on the roof, which can be stored in a battery. This is combined with mechanical ventilation with heat recovery and mini heat pumps to generate heating and hot water. There are also plans to incorporate electric vehicle (EV) charging points.
Pritchett says: "As a result of what we've done at Springfield Meadows, even though it's probably the greenest scheme in the country, there are things we could do better next time.
"Everything we've done so far has been about minimising the negative impact on the environment, but can we turn it on its head and make every new house have a positive impact on the environment? We think we can."
Six of the zero-carbon homes constructed by Greencore at Longcot were affordable housing, and there are nine affordable zero-carbon homes being built at Springfield Meadows, in partnership with Sovereign Housing Association.
Sovereign says it will continue to work with Greencore on future developments, and is carrying out a detailed review of its homes '…to look at their environmental footprint and performance and setting a standard for all new and existing homes to achieve'.
It adds: 'This is a huge undertaking and we'll face some challenges, as it will involve reviewing and assessing our entire stock, which includes a variety of types and ages of homes. However, this work will not only have a positive environmental impact but will also create cost savings on running a home that can be passed to our residents'.
Oxfordshire is already firmly on the zero-carbon housing map thanks to Elmsbrook – the UK's first eco-town. As the first phase of the NW Bicester scheme, Elmsbrook includes 393 zero-carbon homes developed using Bioregional's One Planet Living framework and is a joint venture between housing association A2Dominion and national housebuilder Crest Nicholson. Homes are fitted with solar PV roof panels, rainwater harvesting systems and EV charge points. Heating and hot water is provided via a heating district network connected to a combined heat and power (CHP) energy centre. The overall scheme of 6,000 homes at NW Bicester is due to be completed by 2030.
Bioregional has been involved with Elmsbrook for almost a decade. Programme manager Lewis Knight describes it as "a really special development" and underlines its importance as "a true zero-carbon development at scale".
A number of low-carbon and zero-carbon homes is also the pipeline at the UK's largest custom- and self-build housing project Graven Hill, also near Bicester. Beattie's Passive Flying factory was set up in 2017 on the 1,900 plot site to help those wanting to self-build Passivhaus standard houses.
Another Oxfordshire-based pioneer is Green Unit co-founder, Jonathan Finnerty. The firm's ultra-low carbon curved engineered timber pod design, the ARC, is single-storey with a wildflower 'living' roof, and uses natural materials such as sheep's wool insulation. Constructed offsite, it is fitted out with plumbing and electrics before being craned into place where needed. Finnerty started a trial last month to install clean energy company Verditek's lightweight solar panels on the roof of the ARC pods, which can be used for housing, offices, classrooms and holiday units. Finnerty also believes the ARC could be part of the solution to the city's homeless crisis.
Last year heralded a significant change in consumer attitudes, thanks to 'The Greta effect,' Greencore's Pritchett believes.
"We weren't shouting much about the eco-credentials of our houses 12-18 months ago, because we didn't think it made much difference. Now it's at the top of the list, because there's been a massive change in public awareness in the past year," he says.
Greencore aims to deliver 500 'climate-positive' houses during the next five years in the hope that this will act as a catalyst for the rest of the house building industry to follow suit.
He is confident that if more housebuyers become aware of the benefits of carbon reduction and lower energy bills, they will begin to put pressure on volume house builders.
In its FHS consultation paper, the government's preferred option is for double glazing, low-carbon heating and power generation such as solar panels, which would result in a 31 per cent improvement in emissions and save the average household £257 a year.
There is also a drive to 'tighten up' the situation around building regulations, which mean national housebuilders who obtained planning consent many years ago are still building to those requirements. This is relatively common, because many housing sites are 'built out' over a number of years.
The FHS paper states: "It cannot be right that new homes are being built to old standards introduced in 2010 or even 2006. It means occupiers do not benefit from the levels of energy efficiency and bill savings they would expect from a brand-new home. It also means new homes are contributing more carbon dioxide emissions than should be expected, which has an impact on climate change."
Greencore's Pritchett is blunt: "We can't carry on with business as usual, we have an emergency and an emergency demands a response. The first thing is wanting to do it, and not everybody wants to. A lot of people put profit, rather than doing the right thing, at the top of the list. Then, it's knowing how to do it but once you've done it a few times, you realise it's not that difficult. We want to share the knowledge we've gained and say: 'It's not that difficult – anybody could be doing it'."
As part of his mission to "change the construction industry forever" last month Pritchett brought together more than 50 town planners, land-owners, investors, architects and representatives from local councils and housing associations for the launch of the One Planet Oxfordshire Construction Plan at Culham Science Centre.
Speakers at the half-day conference included Greencore's Martin Pike, Bioregional's Lewis Knight and Good Homes Alliance vice chairman Mike Roberts.
Volume housebuilders are dragging their heels partly because they have long-established supply chains in place. Switching to zero-carbon would mean a complete transformation in terms of materials, skills and culture.
According to the Housing Ministry's impact assessment, building to the government's preferred FHS option would add almost £5,000 to the cost of building each home. Also, construction industry trade associations point out there may not be enough trained installers for heat pumps, or other low-carbon heating tech.
Pritchett argues that as well as legislative pressure, there's a need for incentives, such as variable Community Infrastructure Levy (CIL) or stamp duty. In the same way electric cars are not required to pay road tax, housebuilders who build passive houses and zero carbon houses could be exempt from CIL.
Bioregional's Lewis Knight agrees there needs to be a paradigm shift in the way the construction industry builds homes, across supply chains and employee skills if we are to see tens of thousands of new zero-carbon homes a year, rather than the painfully small numbers that are actually built.
"You will always have great people who want to do the right thing but there needs to be a regulatory stick that will drive up standards," he says.
And he warns: "It sounds quite dramatic but every home we don't build to zero-carbon now, we're locking in a retro-fit problem we will need to pick up in future generations.
"Every home now not being built to zero-carbon standard is creating emissions that will have to be dealt with 14-15 years down the line. We're making big decisions now that will have consequences for a very long time into the future."
More
July 10th 2023
Active Needle -Shortlisted For Technology Innovator Of The Year
We're very proud of Culham Innovation Centre customers Active Needle Technology, who have been shortlisted for the "Technology Innovator of the Year" category of The Innovation Awards 2023 and will soon find out the results! Backed by Innovate UK, Make UK, NatWest, Institute of Directors (IoD), the West Midlands Combined […]
February 17th 2023
Culham Innovation Centre celebrates 22 years 
Shelley Furey, Culham Innovation Centre Director, said: "Over the last 22 years, we have supported over 200 businesses in biotech, high-tech engineering and fusion energy".
July 27th 2022
Keeping up with Plasmatreat's Growth
Plasmatreat is a manufacturer of Plasma equipment, which is used for surface preparation in many industrial manufacturing applications.