Sense Biodetection moves on to pastures new
October 13th 2021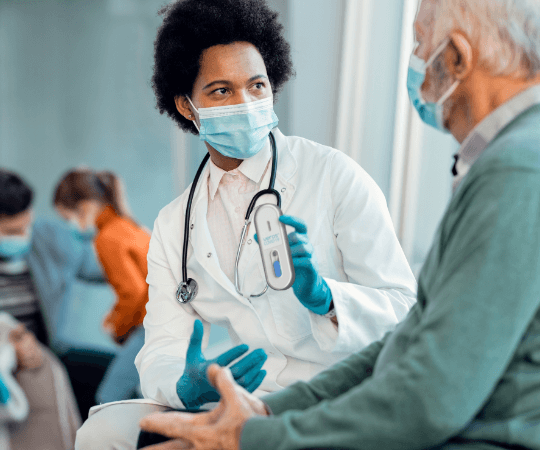 You might think that, as a company that provides office and lab space, we would be pretty upset to lose a customer.  Well, in many ways we are - we work very closely together, build strong relationships and it feels like losing a member of the family.  However, the flip side of that coin is that when, in Sense Biodetection's case, the company is graduating because they have scaled beyond a point that we are able to support them, we are immensely proud and want to join in with them in celebrating success.
Sense Biodetection joined us when it was a seed stage company in 2016 and we helped them to expand four times within the centre.  In April 2021 the company announced a $50m Series B investment to advance commercialization of its Veros™ COVID-19 product and continue development of a portfolio of instrument-free, rapid molecular tests. Company founder and Chief Business Development Officer, Harry Lamble said, "Culham Innovation Centre provided us with essential foundations for success.  Their flexibility and continual support enabled us to achieve ambitious growth."
Sense is a global molecular diagnostics company focused on empowering patients and transforming healthcare access and affordability by bringing lab-quality results though easy-to-use, rapid, disposable molecular tests without the constraints of an instrument. The company's Veros™ product platform will enable widespread testing to enhance patient access, improve patient health and lower systemic healthcare costs. Backed by respected investors, such as Koch Disruptive Technologies, Cambridge Innovation Capital, and Earlybird Health, Sense is growing rapidly as it prepares to launch Veros™ COVID-19 and build a portfolio of tests for other diseases.
The purpose of Oxford Innovation is to give innovators the best chance of bringing their world changing ideas to life.  Our workspaces are designed to flex around a business as they develop and are complemented by expert business support.  Sense is obviously destined for success and their technology will have a hugely positive effect on many people's lives.
We're very sad to see them go, but we're thrilled that the company is doing so well, and we'd like to think that we had a tiny part to play in their journey. We wish them all the very best for the future and look forward to hearing about future successes.
More
July 10th 2023
Active Needle -Shortlisted For Technology Innovator Of The Year
We're very proud of Culham Innovation Centre customers Active Needle Technology, who have been shortlisted for the "Technology Innovator of the Year" category of The Innovation Awards 2023 and will soon find out the results! Backed by Innovate UK, Make UK, NatWest, Institute of Directors (IoD), the West Midlands Combined […]
February 17th 2023
Culham Innovation Centre celebrates 22 years 
Shelley Furey, Culham Innovation Centre Director, said: "Over the last 22 years, we have supported over 200 businesses in biotech, high-tech engineering and fusion energy".
July 27th 2022
Keeping up with Plasmatreat's Growth
Plasmatreat is a manufacturer of Plasma equipment, which is used for surface preparation in many industrial manufacturing applications.