Keeping up with Plasmatreat's Growth
July 27th 2022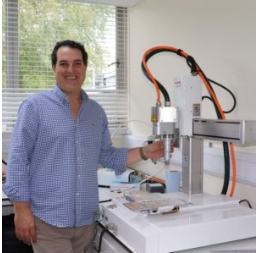 It's hard to admit defeat, but our long-term customer, Plasmatreat is now growing so quickly that little Culham Innovation Centre just can't keep up!
Plasmatreat is a manufacturer of Plasma equipment, which is used for surface preparation in many industrial manufacturing applications. It is effective wherever a surface needs treating for activation or cleaning prior to bonding, painting, or welding. It is a very green, renewable process that replaces Chloroflurocarbons (CFC's), primers and flame treatment.  Plasma pre-treatment is the key enabling technology for microfine cleaning, surface activation and plasma coating of nearly all kinds of materials – from plastics, metals and glass to cardboard, textiles, and composites. It is a not only a greener, but also a more accurate and repeatable process than chemical alternatives.
Plasmatreat is a global organisation and UK Director, Ray Potgieter explained that they are seeing a rapid growth in the UK which, to a certain extent, he puts down to Brexit. While growth is mainly coming from the automotive sector, he has observed that companies are starting to get investment to put in new lines; also, because of changing trade tariffs and tax breaks due to Brexit, companies are bringing production back to the UK.  This has meant that the UK division is rapidly growing and becoming a correspondingly bigger part of the global Plasmatreat business.
Ray started with plasma treat at the beginning of 2016 and for several years it was pretty much a one-man operation.  The company moved into Culham in June of that year, fresh out of his colleague's home.  They chose Culham for its lab and the office space, and so that customers could visit their trials at an actual site instead of going to his colleague's house and then being walked out to the shed!
The business was set up as a satellite to build the UK side of the business, which is now growing rapidly Culham served the company well, but they are having to move because increased demand means that they need to expand, and they will need to quadruple their lab space.  Ray has enjoyed his time at the centre and said " It was nice being in the innovation Centre with the other start-ups; it felt like a real little group.  The staff have been amazing!"
We're delighted to hear that the UK division of Plasmatreat is growing in importance and wish the company every success in the future.  But you will be missed!
More
July 10th 2023
Active Needle -Shortlisted For Technology Innovator Of The Year
We're very proud of Culham Innovation Centre customers Active Needle Technology, who have been shortlisted for the "Technology Innovator of the Year" category of The Innovation Awards 2023 and will soon find out the results! Backed by Innovate UK, Make UK, NatWest, Institute of Directors (IoD), the West Midlands Combined […]
February 17th 2023
Culham Innovation Centre celebrates 22 years 
Shelley Furey, Culham Innovation Centre Director, said: "Over the last 22 years, we have supported over 200 businesses in biotech, high-tech engineering and fusion energy".
October 13th 2021
Sense Biodetection moves on to pastures new
You might think that, as a company that provides office and lab space, we would be pretty upset to lose a customer.  Well, in many ways we are – we work very closely together, build strong relationships and it feels like losing a member of the family.